Private Security Officers 'Creating A Good Image'
Private Security Officers 'Creating a Good Image' continues-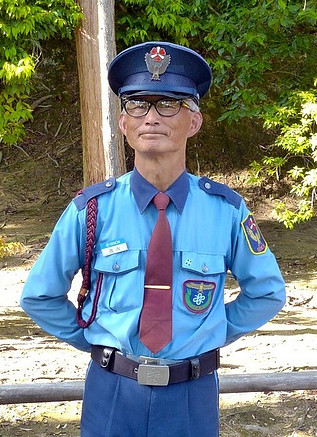 Basic Appearance Standards
The basic standards for all Private security guards vary by job assignment and company standards. Since you are a representative of your company and or Client, you must meet the highest standards for appearance. Your appearance is a subtle, silent form of communication.
Personal Appearance
As a Private Security Guard you are expected to be clean and properly groomed at all times. This is the first step in 'Creating a Good Image'. Your uniform must be clean and unwrinkled when you are on duty, this includes being on company prior to clocking in. You do not want to show up with your duty belt on your shoulder, or coming on property in civilian clothes with your uniform on a hanger. I have experienced guards doing this and put a stop to it. Normally a private security guard is not to loiter on clients' property when not on duty.
Your fingernails, some Guards don't think their nails are not important. Have you ever got scratched by accident because someone's nails where too long? All guards, especially guards that are in contact with the public should be free of dirt and trimmed so that they do not extend beyond the fingertips. Long finger nails could cut through nylon gloves causing exposure, or cut, scratch a person by accident. It can happen and will happen, take precautions.
Your hair must be clean, neat, and not interfere with the proper wearing of official headgear if necessary. For us modified bush styles were acceptable if they allow proper wearing of the official headgear. Hair ornaments (example: flowers & combs)should not be worn while in uniform, but things to hold your hair in place such as, bobby pins, hairpins and barrettes, as long as they are concealed as much as possible and are the same color of the hair, color that blends with the hair. The cap may be secured to the hair with hatpins of plain design.
Men's faces should be clean-shaven, except for mustaches and sideburns. Men's sideburns and mustaches must be neatly trimmed, extending on lower than the bottom of the ear, constant in width (not flared), and end with a clean-shaven, horizontal line, on higher than the nose line.
Hair ornaments, such as flowers and combs, cannot be worn, but items to hold hair in place (bobby pins, hairpins, and barrettes) may be worn if they are concealed as much as possible and are of a color that blends with the hair. The cap may be secured to the hair with up to two hatpins of plain design with black or dark blue pinheads.
When Makeup is worn by female security guards, should be subdued and natural looking.
Jewelry can be unsafe on the job.
While you are on duty, it is preferable that a security guard not wear jewelry such as earrings, bracelets, chains, religious insignia, buttons, or pendants, items that are not part of the uniform issues by your company. Rings are acceptable but only on the third finger of one hand. A personal necklace worn by a security guard must be completely concealed beneath the uniform shirt. A necklace that is worn outside the uniform to hold a badge or I.D. as required by the company is acceptable. All exposed body piercing jewelry in not recommended and can be a hazard. All exposed piercing should be removed prior to reporting on post unless it is completely covered by the uniform. Violent offenders have been known to rip earrings out of ears and make garrotes with necklaces.
Undergarments that can be seen through or above a uniform shirt are customary white. Female security guards must wear bras with the uniform, and all must wear undergarment t-shirts.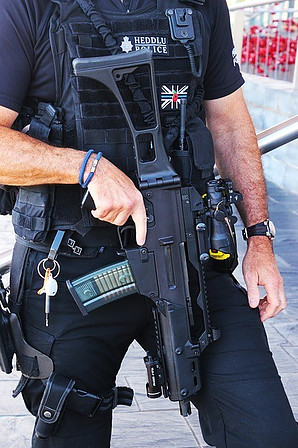 Proper Way Of Wearing a Security Guard Uniform
A security guard should keep their uniforms, insignia, accessories, and equipment clean and in good repair. This includes all leather gear, hand cuffs, badges, shoes, including weapons. It is a good idea to inspect these items regularly for compliance. Some suggestions from our former company handbook are as follows:
Wear your cap squarely on the head, with the sweatband snugly against the forehead.
Long sleeved shirts should be worn with a tie, usually during the winter months or on special occasions. It is important to understand that all security guards assigned to the same post at the same time must be uniformed, meaning all long sleeves and tie, or all short sleeves, usually excluding supervisors. The tie should not be tucked into the front of the shirt. Don't wear a tie with a short-sleeved shirt unless you have long sleeved jacket.
When you wear a short-sleeved shirt with any type of jacket, it is customary to also wear a tie, unless your client has other requirements. A security guard should not wear suspenders or roll or fold back sleeves. All security guard uniforms should be altered for a proper fit. When a security guard looks good, they feel good and it makes their job easier.
Keep your footwear shined and in good condition. Shoes should be black plain toes. Toes and heels are to be closed and the heels on higher than 1 inch. If your job requires a lot of standing and walking, you would definitely get some comfortable shoes. The security guard should wear socks that are long enough so that your skin won't show below your trousers when you are sitting. Unsafe; Pumps, loafers, wingtips, sandals, suede, and athletic shoes are not permitted. If boots are worn, they must be black with rounded plain toes do not wear pointed shoes or boots on the job.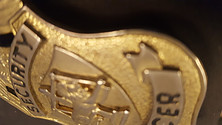 All badges must be of a type approved by the state you work or issued by the company . The metal or cloth breast badge goes on the left breast of the shirt and the outermost garment. Such as a windbreaker and jacket. Cap badges are located squarely upright and centered above the cap visor.
Shoulder patches must conform to the State and company requirements and should be located on the left shoulder of the shirt, jacket, and or windbreaker.
It is a requirement in most jobs to wear a nameplate either plastic or metal. The nameplate contains the officer's name and, first name or initial. The Officers nameplate is centered on the right pocket flap of your outermost garment. Nameplates as well as most of the security guards gear should be uniformed and must be of the same material and appearance for all security guards on a particular post.
Security guards are encouraged to wear only the accessories that they are qualified to handle and are issued by your employer and in accordance with the companies and clients'' contract. These include but are not limited to: handcuffs, expandable baton, chemical irritant spray, and pistols. For security guards working on armed posts, equipment includes a weapon, holster with trigger guard worn at the hip, a sidearm, an ammunition pouch with ammunition, (baton and holder, as a non lethal alternative) and four belt keepers.  All security personnel should have access to or have a first aid kit as part of the tools for the job.
Conclusion…
Security guards are encouraged to be professional and are given the tools and equipment to look professional. It is up to the security guard to take his appearance serious, including their grooming standards and remember the first impression from the public is the lasting impression. This is the first step in 'Creating a Good Image'.
NEXT time will talk about Traits of a Top-Notch Guard.
WORK FROM HOME, Easy as 1,2,3…
Already Got a Site To Promote… Check out the ALL in ONE.